Location
Parma City Center
Places to visit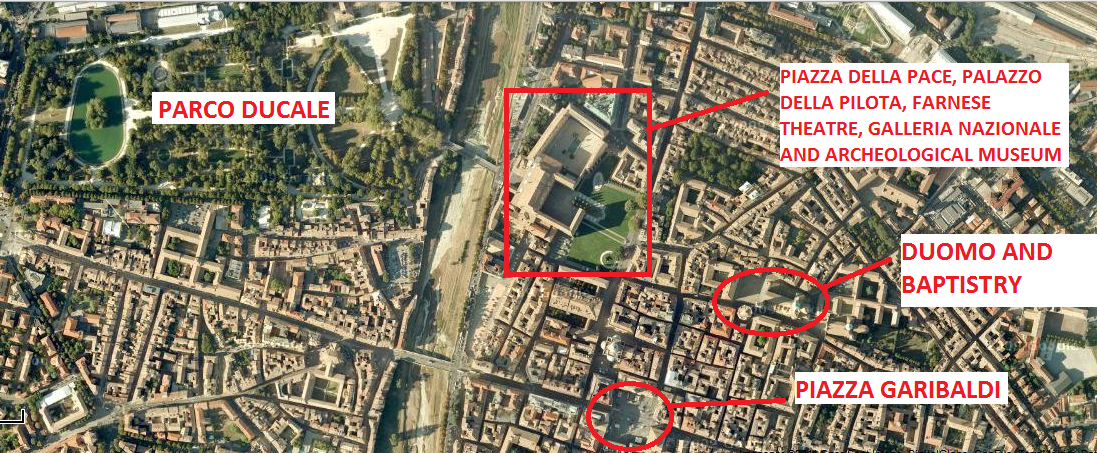 A detailed map of Parma can be found here.
Campus
WIVACE will take place in the Centro Congressi S. Elisabetta, located on the Campus of the University of Parma, 4 km south of the town centre, on the road to Langhirano.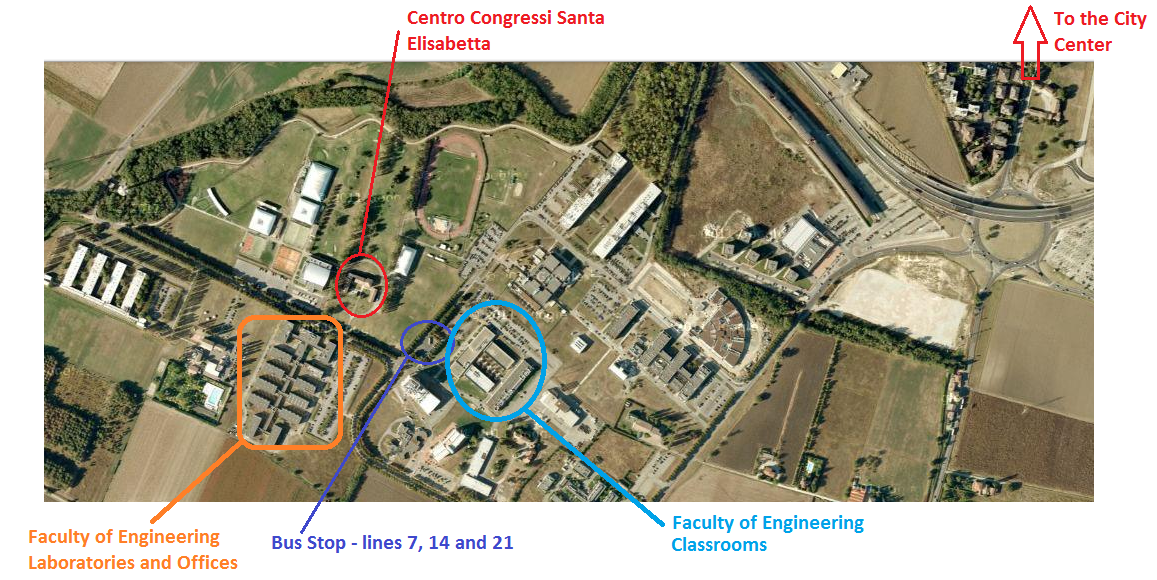 A more detailed map can be found here.

Notes:
For those who need a receipt to be refunded for the meals: in the Dining Hall a receipt is always given.
Prices for meals vary between 5 and 10 Euros, depending on what you order.
How to reach Parma from the different airports
The main airports to get to Parma are Milan, Bologna and obviously, Parma.
In the Milan area there are three different airports:
Bologna (Website).
Parma (Website). There are not many flights that get directly here, but if you get here, the good thing is that you are just 15min away from the city centre, taking the bus from the airport or a taxi. There are direct flights from Rome, London Stansted, and possibly Paris (a new service should start in late January).
If you get to one of the airports of Milan the easiest way to get to Parma is to take a shuttle bus to Milan Central Train Station (Milano Centrale). There are different companies and buses leave every 30 minutes. It is very easy to identify them when you get out of the terminal. The trip by bus takes around 50min from Malpensa and Bergamo airports to get to the centre of Milan and 30min from Linate. From there, you just have to take a train to Parma. There are different kinds of trains and their prices vary depending if it is a Regional, InterCity or ESCity train (single ticket from 9.75€ to 21€ approximately). Also the ride varies between 1h 15min and 1h 45min depending on which one you take. In case you arrive to Malpensa airport you can get directly the train from the airport, or if you arrive in Bergamo you can get a bus to Bergamo city (10min ride) and from its train station take a train to Parma. You can find train timetables and buy tickets (registration required) at http://www.trenitalia.it .
If you arrive in Bologna airport, it is about 6 Km from Bologna central railway station. You can reach it by the "Aerobus BLQ" service. Then going from Bologna to Parma is just 1h (6 to 20 Euros) by train.
How to reach the Campus from the City Center
To get from city center to the campus you can use buses number 7, 14 and 21 (the Campus is in block 8-D in this map.). Every bus has a frequency of 15 minutes, and the fastest bus is the 21 (15'). For the other buses the trip takes around 25-30' (lines 7 and 14).
To know the exact bus stops locations and the bus timetable you can use Emilia Romagna travel planner): as campus address enter "Viale delle Scienze", "Parco Area delle Scienze", or "Viale Usberti".
Single ticket (valid for 60 consecutive minutes on any line): 1.20€. Sold in bars, newsstands, tobacconists.
Single ticket bought directly on the bus: 2.00€
8-trip tickets: 8€
If someone prefers to walk from the center he should know that it takes about 1 hour to get to the campus: the distance from the location of Wivace to Piazza Garibaldi, in the Center, is 5,6 km. Google maps route.
Taxi: +39 0521 252562